Patroness Of Mariampur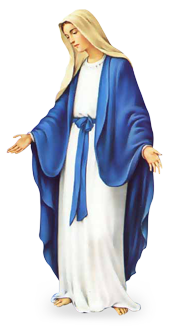 Blessed Virgin Mary Mother of Jesus to whom Mariampur- (City of Mary) Senior Secondary School owes its very existence, name and growth is our Holy-Patroness. Like every good mother is at the heart of the family, Mary is at the heart of the Mariampur-Family.
From its very inception in 1957 Mary has been the Source of our inspiration, the Model of our aspirations, the Tower of our strength, the Guiding Star of our progressive-journey and our sure Protection against all evil and dangers.
Mary Fails No One
Mary Is The Universal Mother
Model Of Contemplation
Glory Of The Girl-Child
Bearer Of Life-ever Relevant
The Birth And Greatness Of Mary
The Birth And Reason For Greatness Of Mary