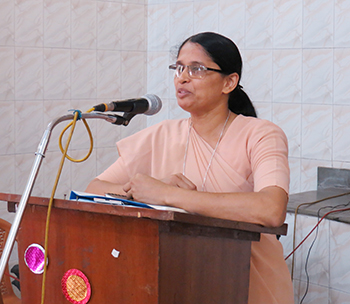 Dear Friends,
On behalf of the staff and students of Mariampur Sr. Sec. School, it is my pleasure to welcome you to our school website. Our hope is that you will find our website to be user friendly and after you visit you will have a good idea of all we have to offer. As the new Principal of Mariampur Sr. Sec. School I am excited to be associated with one of the finest schools in U.P. and look forward to work with our outstanding staff, students and community to provide the best education possible for our students. I am really privileged to be the head of this institution where responsible parents seek to educate their ward for their wholesome growth- Spiritual, Psychological and Intellectual. Our aim at Mariampur Sr. Sec. School is to support all our students academically and socially. We make every effort to assist our students to graduate successfully and be well educated members of the society.
We believe an educational institution should be "The experience of lifetime". In many cases High school experience sets the stage for success later in life and a lifetime of positive memories for our students. We encourage your child to become involved and engaged in co- curricular and extra-curricular activities. It will enhance their school experience. I am confident that through a collaboration effort of everyone associated with this magnificent Institution we will continue to provide the best for our students to face the challenging environment and enter into the society to be as fit as possible to face any challenges of life.
And finally with this informative website we invite you whether you are a student, parent, ex- student, community member or looking to bring your ward to Mariampur Sr. Sec. School, to go through the pages of this website. You will find a wealth of important information, registration material, activities, calendars and links to other useful information. We hope you will find our website useful and informative. Once again I welcome you all to what should be the best that Mariampur Sr. Sec. School has yet to experience.
Stay Connected. God Bless You.